Humphreys & Co.
COMMERCIAL & PRIVATE CLIENT LAWYERS
Humphreys & Co.
14 King Street
Bristol
BS1 4EF
www.humphreys.co.uk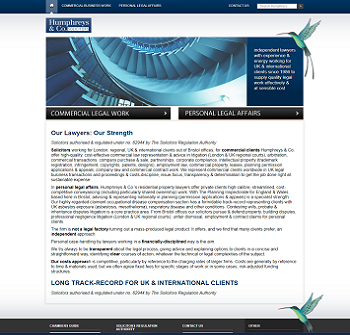 Humphreys & Co. are independent lawyers with experience & energy working for UK & international clients since 1986 to supply quality legal work effectively & at sensible cost.
We offer high-quality, cost-effective commercial law representation & advice in litigation (London & UK regional courts), arbitration, commercial transactions, company purchase & sale, partnerships, corporate compliance, intellectual property (trademark registration, infringement, copyrights, patents, designs), employment law, commercial property, leases, planning permission applications & appeals, company law and commercial contract work.
We represent commercial & private clients worldwide in UK legal business transactions and proceedings.

Humphreys Law
CORPORATE, TECHNOLOGY & MEDIA LAWYERS
Humphreys Law
20 Eastbourne Terrace
London
W2 6LG
www.humphreys.law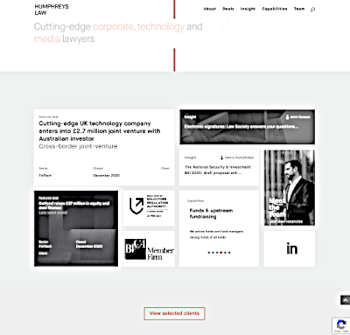 Humphreys Law are a focused, full-service law firm advising clients in the technology and media sectors. Our lawyers have decades of combined experience advising on transactions, projects and disputes. We pride ourselves on providing pragmatic, crystal-clear advice rooted in the context of the underlying commercials.

A great deal of what we do has an international dimension. Rather than operating overseas branch offices, we maintain informal relationships with similarly-independent overseas firms in all the major jurisdictions and beyond. We have a small office in Brussels and in Dublin so that our lawyers who are dual qualified in England & Wales and then Ireland and/or Belgium can have post-Brexit access to the European Courts.

Rightguard Protection
TRADEMARK REGISTRATION STRATEGIES
RightGuard® Registration
Powered by
Humphreys Network
www.humphreys.network
www.rightguard.net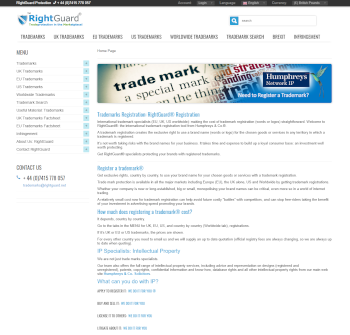 Rightguard Protection is an online tool powered by trademarks specialists set up to cut through the complexities and detail of trademarks law and procedure to offer quick, streamlined costings for trademark applications, and their pursuit through to registration, in the main territories worldwide including UK, EU (Europe) and the US.

Our team advises on and represents clients on all intellectual property matters, trademarks, designs (registered and unregistered), patents, passing off, confidential information, database rights and all other intangible intellectual property rights.
RightGuard offer United Kingdom, European Union, USA & Worldwide trademark registration services through a network of specialists worldwide.